Palm Oil
The palm oil tree is also known as Elaeis Guineensis and is native to West and South West Africa. Nearly 85 percent of the world's palm oil comes from Indonesia and Malaysia; the other major growing countries are Thailand, Colombia, Nigeria and Papua New Guinea.


All About Palm Oil
Explore and Understand Africa Through Her Food and Culture
African palm oil also-known-as macaw-fat
African palm oil
African palm oil aka macaw-fat is the world's most popular and most purchased vegetable oil making up about 35 percent of the total international trade in cooking oils. The Palm oil tree has many uses and no part of the tree goes to waste. The tree is used to make world famous palm wine and local medicines. The leaves may also be used to make thatches, which are often used as roofing material in certain areas.
In West Africa, palm oil is a major food item and it is typically used for making goods with its natural flavor and red color having a unique effect on a dish. Palm oil can be harvested 12 months of the year accounting for 35 percent of the world's vegetable oil market.
Palm oil kernels
The palm oil tree is indigenous to West Africa, naturally occurring along the 300-mile coastline strip from the Gambia to Angola. Palm oil manufacturing in West Africa has two elementary types. The first, palm oil growing in wild grooves and second palm oil groves that are planted on plantations and small farms. Sustainability in the palm oil industry and emphasizing that producers only source palm oil has been produced in an ecological way is a major issue in the industry.
Palm oil is produced in countries in which there are large percentages of the world's rainforests. Rainforests are being destroyed to make way for palm oil plantations, as demand for palm oil grows worldwide. Certified sustainable palm oil (CSPO) and palm kernel oil (CSPKO) is produced by palm oil plantations that have been independently audited and found to comply with the globally agreed environmental standards devised by the Roundtable on Sustainable Palm Oil (RSPO).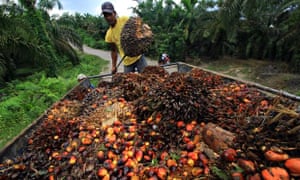 Demand for sustainable palm oil rises
These stringent sustainability criteria related to social, environmental and economic good practice. The Roundtable on Sustainable Palm Oil (RSPO) was formed in 2004 with the objective of promoting the growth and use of sustainable oil palm products through credible global standards and engagement of stakeholders. In 2008, the first grower/producer received RSPO certification.